The Preferred Private Lender for Real Estate Professionals
No one knows your local real estate market better than a local lender, and getting the right loan for your project can take your real estate investing business to the next level. Groundfloor a premier private lender is here to help.
A private money lender is any non-bank company such as Groundfloor that lends money to people to buy real estate properties. Groundfloor offers private money to companies that need hard money loans that are designed for short-term expenses.
Groundfloor is a first-of-its-kind investment platform for everyday investors that gives both non-accredited and accredited investors direct access to short-term, high yield returns backed by real estate. Our returns are powered by venture loans to real estate entrepreneurs, originated and serviced by Groundfloor.
The Groundfloor Real Estate Lending Advantage
No minimum transactions experience required
Five year lookback for experience
Minimum property value $75,000
Minimum credit score of 640
12 and 18 month terms
Rates start at 7.5% and roll points into closing cost
True deferred payments - no payments until loan repays
Loan sizes from $75,000 to $750,000
Up to 90% Loan-to-Cost, depending on experience
Up to 70% Loan-to-After repair value
Interested in Learning More? Meet With Us
Types of Real Estate Financing We Offer
Fix and Flip Loans

Groundfloor offers several financing options to help you maximize your flip. Our simple solutions offer as much as 90% financing, including our renovation budget. What are flip and fix loans? A fix-and-flip loan is a great way to make money in real estate. These short-term financial instruments allow investors to purchase properties with plans for immediate profit through cosmetic renovations or complete reconstruction work on an existing structure, which can lead them toward greater returns down the line! Read more.

Fix to Rent Loans

Financing your rental portfolio when your strategy is to find them, fix them and then finance them with long-term leverage. Find out how our 2-step process will help maximize your cash on cash return and expand your rental portfolio today!

Rehab Investor Loans

Real estate rehabs present an exciting opportunity for investors to increase their profits and expand their portfolios. By investing in properties that require renovations, savvy real estate moguls can quickly turn a small investment into substantial returns over the course of weeks or months - making it one of the most popular strategies amongst industry veterans!

New Construction Loans

With Groundfloor, home builders have access to a revolutionary new way of financing their new construction project homes. Unlike more traditional construction loans—which can require large down payments along with variable interest rates and often complex terms—Groundfloor offers an innovative alternative that makes the process easier than ever before! Continue reading.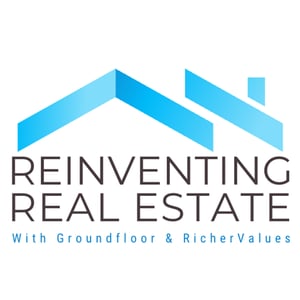 Reinventing Real Estate Podcast
We're excited to introduce you to the dynamic partnership between Groundfloor Finance and RicherValues. These two companies have teamed up to bring you innovative solutions in the field of real estate investing and financial planning. We'll be sitting down with expert leaders from both organizations to hear more about how real estate entrepreneurs and investors can make a real impact in this dynamic industry. As real estate professionals, we understand the importance of understanding the value of a property before making an investment and how it can impact the potential return on investment.